The Revenue Blueprint
It starts with human-centered design for the sales force of tomorrow.
The Sales Experience of the Future
Traditional sales methodologies are not human-centered. They are linear:


So, what's the problem?
B2B customers rarely, if ever, buy solutions following this linear order. This is what the selling organization wants but what about the customer? The focus is on seller activity, not what is best to help the customer buy.
But, what's the "real" problem?
Research shows that customers are 60% through their buying process before they even contact a salesperson. Research also shows that enterprise customers have 6-8 stakeholders influencing a purchasing decision. Does the traditional sales methodology take either of these into account? No. A salesperson's role is to connect these two organizations together by personalizing the buy/sell process to depict value for each unique customer. A high performing seller can conduct multiple types of productive conversations, with the right people to drive three core outcomes.


Is this enough?
No. While good, this is not sufficient to grow and sustain a pipeline of business.
So, what's the solution?
Our agile sales methodology extends beyond finding and winning individual opportunities to filling, managing and growing a pipeline of business. Sellers need to think strategically about working "on their business" as well as "in their business." Pipeline evaluation and management is critical to drive growth strategies across sales organizations. That is why our methodology encompasses this important part of the sales role.

Our unique design-centered approach starts with interviews and focus groups to understand you and your customer—and yields a Revenue Blueprint for your sales organization.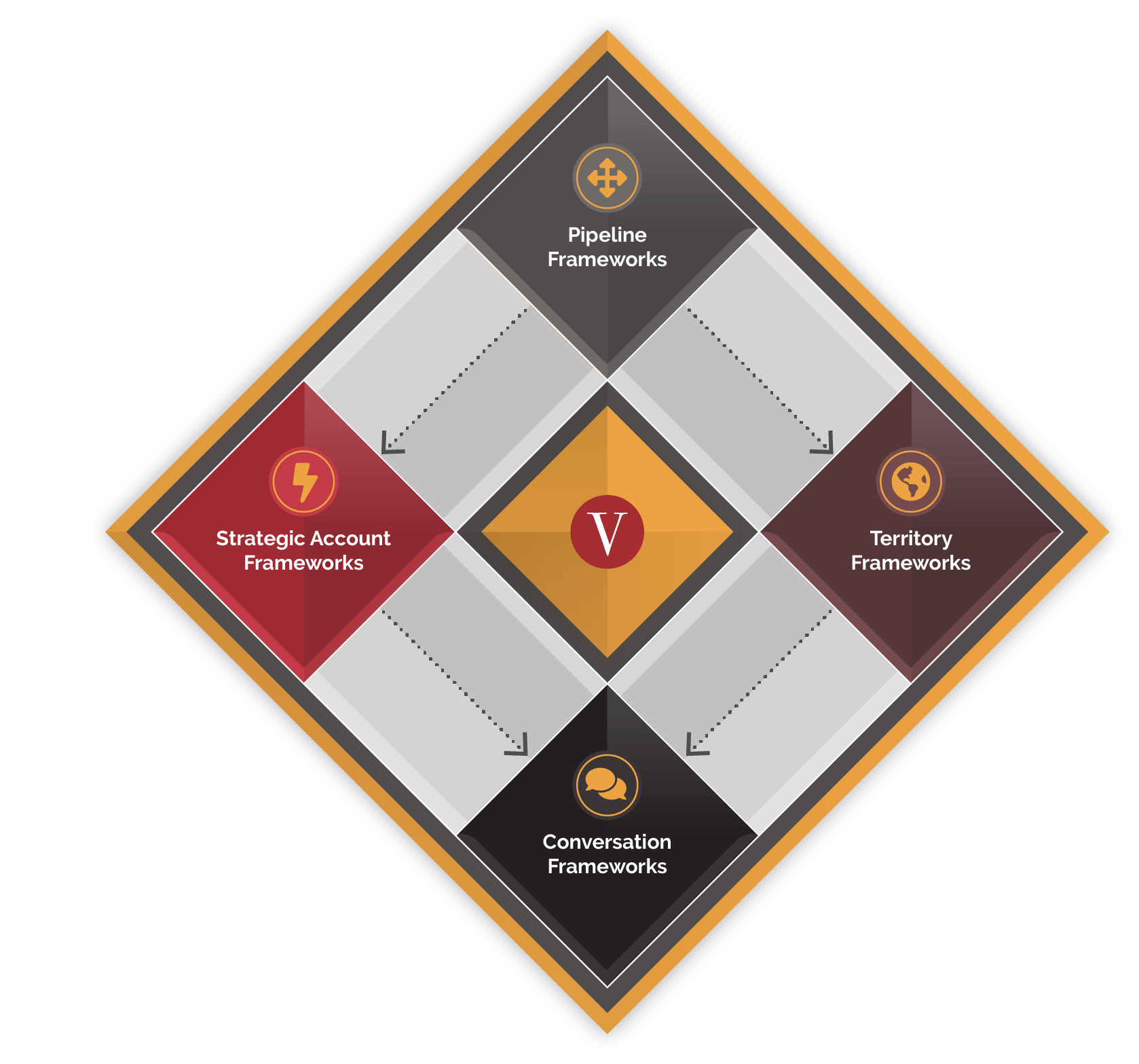 With our Revenue Blueprint, we start where you are. And where your customers are. With the blueprint in place, we leverage our four key Frameworks to take the next steps to realize sustainable and impactful sales for you and your business.
Pipeline Frameworks helps salespeople to think and work strategically on their business. The ability to consistently grow, evaluate, and manage a scalable pipeline of business is a critical component of consistent high sales performance. Discover a framework that works, leading to measurable results. Build skills and capabilities to manage the framework, and leverage tools to support and sustain your pipeline.
Understand how to take a strategic view of their business.
Leverage criteria to evaluate overall pipeline health.
Create (and document) a plan for achieving their annual and quarterly revenue targets.
Identify strengths and opportunities across their pipeline.
Define strategies to strengthen and grow their pipeline.
Strategic Account Frameworks
Strategic Account Frameworks ensures your sales team has a proven cadence in place to manage existing accounts, expand on those accounts, and develop new business. Learn sustainable frameworks to protect your existing sales opportunities from competitors—and from customers losing sight of your value, expand your base, and develop new business.
Develop a practical base protection strategy.
Discover the difference between process and project-driven relationships.
Explore four avenues to expand business inside an account.
Understand the types of conversations you can leverage.
Set a cadence for account strategy conversations.
Territory Frameworks provides a practical and systematic framework to manage your territory accounts effectively. Develop sales habits that lead to results by leveraging simple yet powerful systems for prioritization, research, prospecting, call points, and connecting the dots with high-impact cold-call conversations.
Create an actionable plan for territory management, with clear prioritization.
Build fast, practical research steps into day to day sales habits.
Build custom frameworks for high-impact cold-call conversations.
Set a cadence for territory cold-call conversations.
Leverage social media tools to make connections with prospective clients.
Conversation Frameworks enables your sellers to be agile throughout the sales process by having the right conversations with the right people to drive the right outcomes. Learn a powerful framework to prepare for a results-oriented sales conversation, leverage appropriate tools to execute the conversation, transition the customer to the next step, and reliably take action on each conversation. Sales conversations are unique at each stage of the selling process, so we prepare sellers to shift their mindset and adapt their conversational skills accordingly.
Create a conversation roadmap that guides the buy/sell process for each opportunity.
Proactively generate leads through Prospecting conversations and cadence.
Create or validate opportunities through Learn and Share conversations.
Identify and utilize effective sales strategies and solution strategies through Solution Definition conversations.
Deliver a value-based proposal with Solution Recommendation conversations.
Secure commitment with Confident Close conversations.
From your Go-To-Market strategy, we determine the implications to how your sellers need to Think, Work and Sell, to be most effective. Then we configure and customize our offering based on the needs of your business and sales organization.
Our sales methodology can be deployed using multiple modalities – Leader-led in-person (ILT), virtually (vILT), or self-directed (eLearning)
Our partnership doesn't end after training. We continue to guide you through Adoption, Integration, and Measurement (AIM)
Adoption

Starts with application during the deployment process, and ends with everyday usage of our sales methodology
Integration
Sustained adoption is achieved by integrating the tools and way of thinking into the fabric of your business
Measurement
We provide tools to measure leading and lagging indicators that support your business strategy
You've read about our approach, now hear more about it.
Improving Performance with a Modern Approach to Sales Effectiveness
Unlocking the Value of Executive Calls in Your Sales Strategy