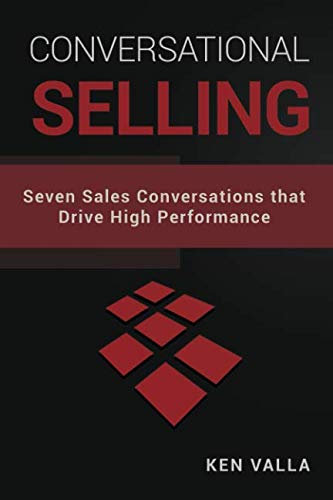 What is the recipe for becoming a high performing b2b salesperson?
Conversational Selling provides a detailed look into the preparation and execution of 7 key sales conversations that drive success. The sales capabilities required in today's business environment are outlined in an easy to apply format. By providing a framework and set of strategies this book will help any b2b salesperson, regardless of experience, to increase their productivity.
Salespeople will immediately see relevance through the real-life stories and examples threaded throughout. The take away from this book is fresh look into what it takes to be a true b2b sales high performer and the know-how to go do it.
See what they are saying!
Carlos Mandriz
Congratulations on your new book Ken! Going through the book, I found myself validating situations I have seen sales professionals encountered and be aware of things that can be in the way of success. An easy read recommended to all, pros and newcomers to the exciting world of professional sales!
Carlos Mandriz
Steve Jasper
Ken, for years you have set the standard for being one of the best salespeople in your field! I have had the chance to read about a quarter of the book and I think you've gone way beyond what the sales process looks like–you've codified all of the things that have made you so successful. You've explained how what's seemingly intangible is actually very doable, with focus, thoughfullness and "being in the moment" with the customer. Your book describes what you do with both humility and realism and teaches us that real success occurs only when we truly connect with each person we need to satisfy, in our role as salespeople, because if we don't, we'll miss something crucial. Thank you for sharing your secrets!
Steve Jasper
Thomas Griffin
Conversational Selling is a treasure trove of the best ideas about how to win and serve customers for the long-term. Ken is an expert in the art of "Conversational Selling" as I have been a client for a long time. I'm thrilled that he has taken the time to share his vast wisdom on what it takes to be a winning sales professional. I recommend it to anyone who wants to build long-term value with customers. It works!
Thomas Griffin
Cris Carmnen
After only a few chapters in, this is turning out to be the most logical, effective map of a successful sales experience. 30 years in the making but still way ahead of it's time. Well done, Ken.
Cris Carmnen
Vince M
99% of the time I pick up a "great business read", there are almost always a handful of advanced concepts that require me to stop and decipher exactly what I'm reading. But when I started to read "Conversational Selling", everything just "clicked".
In a retrospective state after a client call, it is easy to refer back to the book to improve my plan before my next call. Now I consistently repeat the "Guide – Explore – Agree" framework during every call, ensuring consistency and productivity with every meeting. None of these concepts are too cumbersome or "over my head" – the best part about "Conversational Selling" is that anyone can pick up the book and see an impact in their work day.
Vince M
Janet S
The content of this book is well organized/logical. Conveys clear strategies and practical tips for developing sales conversations and skills to engage prospective or improve existing customer interactions in a refreshingly honest, sensible and authentic approach. As I read the book, I also found myself jotting down notes about how to "sell" (or gain buy-in) for solutions I propose/recommend within my own organization. The focus on strategic conversations that drive outcomes and results for both the sales professional and the customers being served provides valuable insight and/or serves as a refreshed way of approaching sales conversations/building customer relationships. I especially enjoyed the sharing of experiences, addressing challenges faced, and bottom-line summaries for easy future reference. Highly recommend.
Janet S
Art Mafale
The book takes you on a journey with recognizable nuances of various sales processes. This to me was comforting, especially in my line of work as a sales enablement strategist. You begin to see alignment of these multiple practices as Ken pulls the best methods together from his years of experience. There can never be a one size fits all. The reading flows easily as if Ken is telling stories about his experience's throughput his tenure; good and bad. I found his "A Word of Advice" section the most valuable take away in each chapter. A refreshing read for anyone in Sales.
Art Mafale
Alex Ross
The concepts on this book are very practical and easy to apply. I find the definition of "productive conversations" to be a mantra for successful selling. Ken's wealth of experience also adds credibility. A great read!
Alex Ross
Sergio Sanchez
Appreciate the simplicity and effective techniques Valla provides. As an example – guiding, exploring and agreeing method. Golden tips especially when sales productivity is at the heart of most companies.
Sergio Sanchez
Joel Norris
"Conversational Selling" is the framework to help you establish a stronger engagement with your prospects and provide you a guide to confidently have a different type of dialog to realize yours and your prospect's business objectives. I would highly recommend this ease to read but powerful book to refine your approach to the sales process.
Joel Norris