Success in sales today is based on How you sell, not What you sell.
Buying is more complex today. In fact, according to research from Gartner, most buyers don't see value in meeting with salespeople in early stages anymore.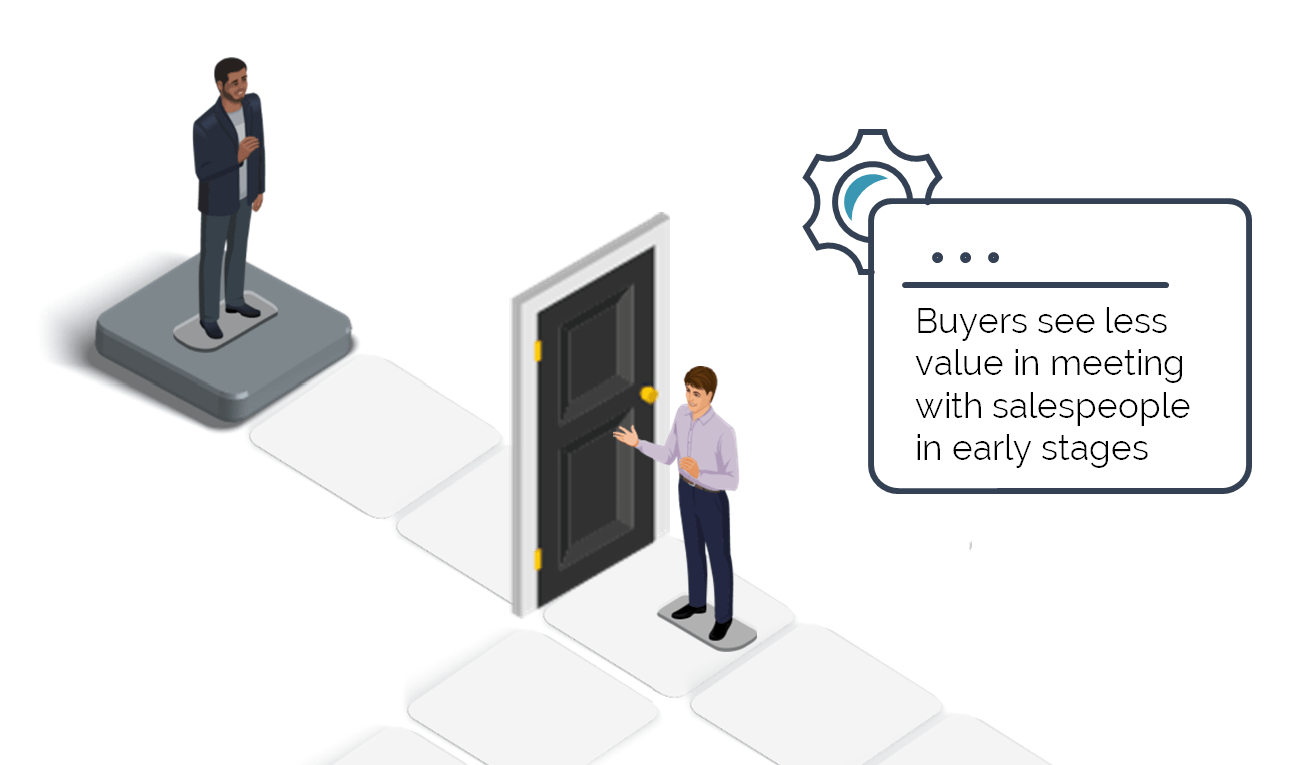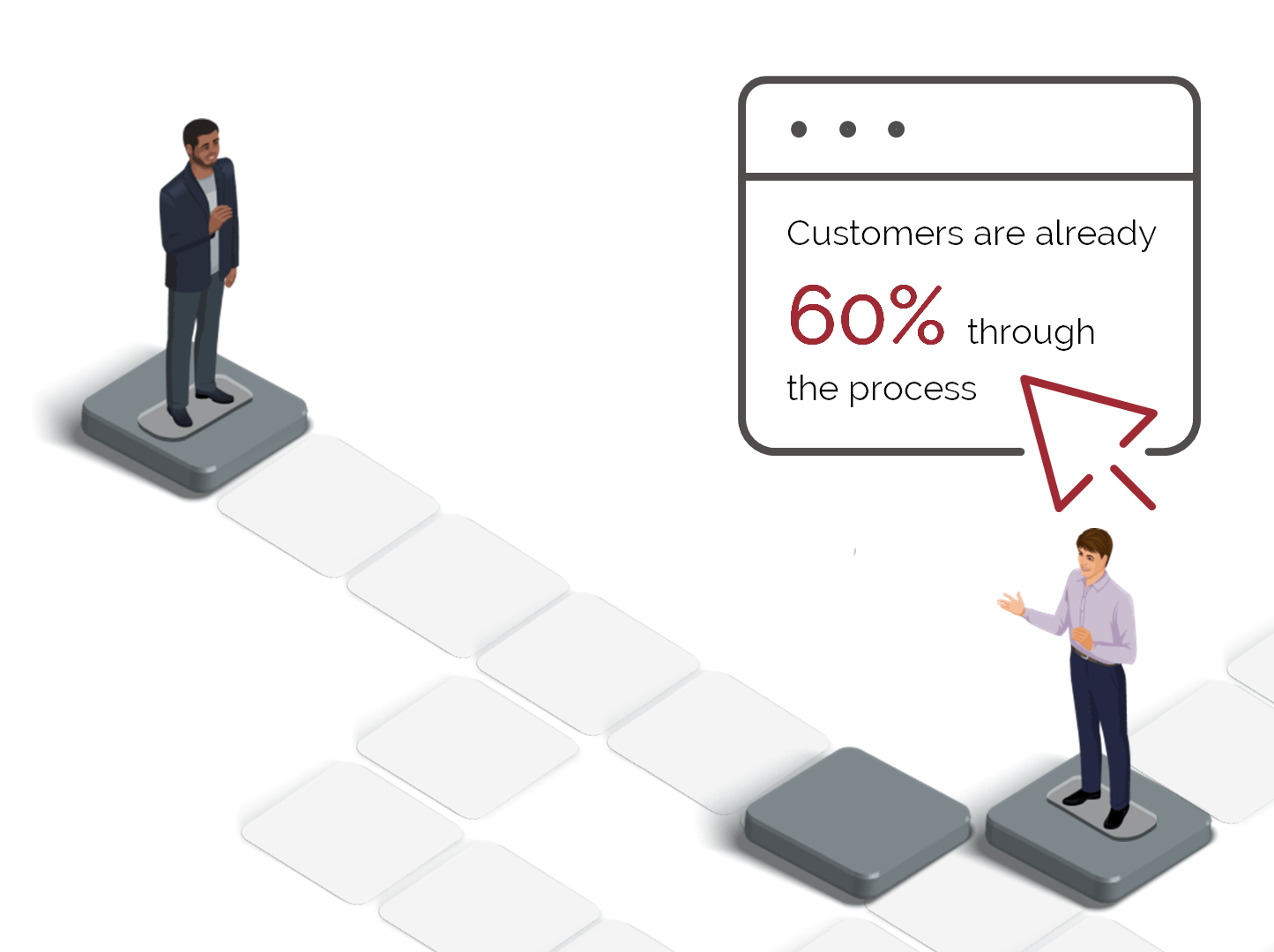 The buyer's preference is to leverage digitalization to educate themselves. Once the buyer does engage a seller, there is a myriad of complexity to contend with. From multiple stakeholders, distributed funding models, buyer expectations of co-created solutions, and a greater demand for business outcomes. There continues to be significant change in the world of b2b buying.
Yet most sales methodologies remain the same.
How can everything in the sales environment be changing, yet your approach to selling remain the same?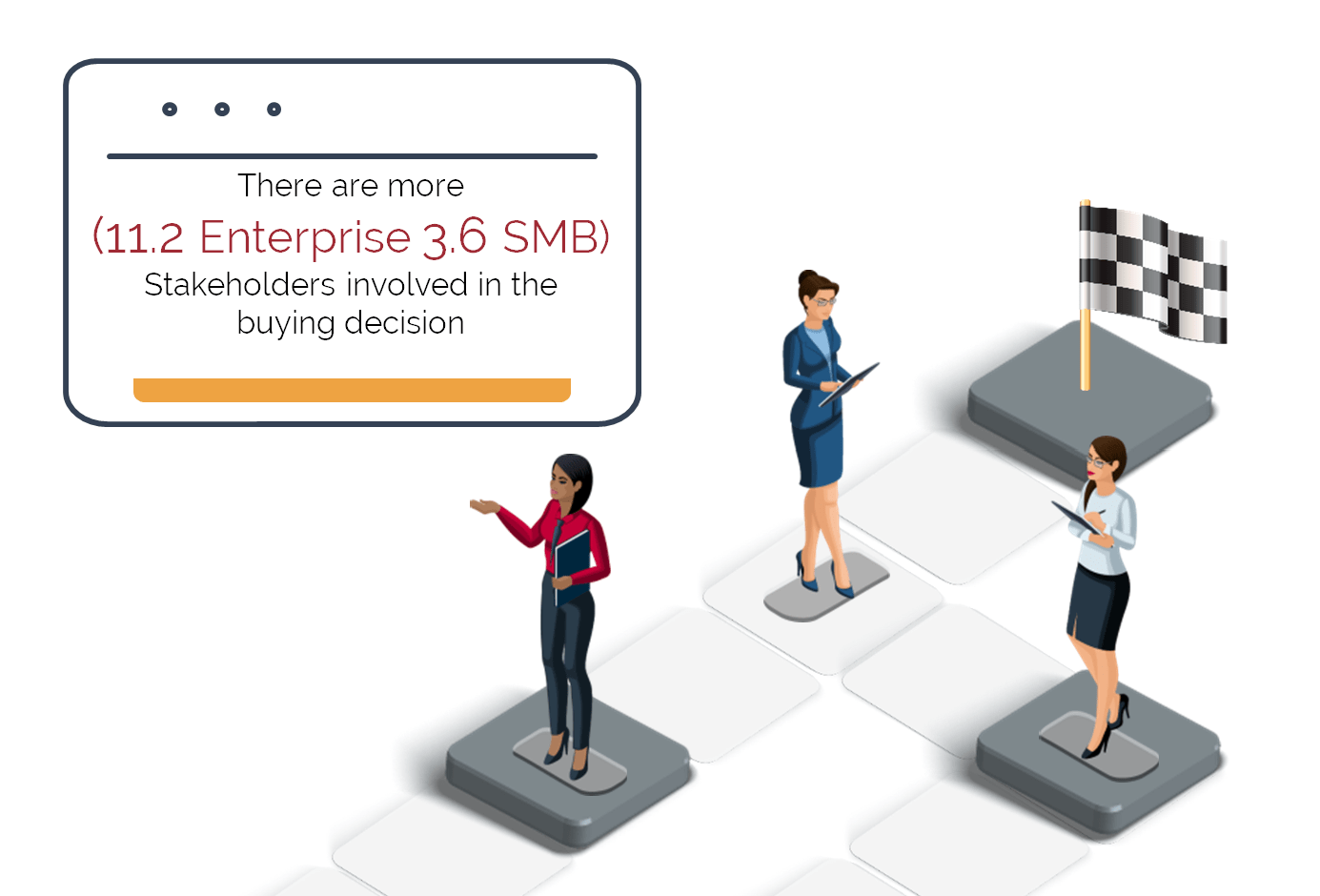 How are you developing your sellers to adapt in this new world?
Our Modern Sales Training Approach
Success in b2b selling today requires salespeople to change in three core domains: How they THINK, how they WORK, and how they SELL.
THINK
Thinking strategically is a critical component of sales effectiveness. The buy/sell process is not linear and there is no roadmap to follow for each opportunity. Sellers must be flexible and able to guide customers based upon their situation. Additionally, customers value sellers who can stimulate their own thought process and bring insight to the conversation. The strategic thinking part of a sellers role is more critical than ever, and salespeople need a methodology that enables them to think and navigate.
WORK
Salespeople are operating in a new world. Remote selling, digitalization, an abundance of data are just a few of the elements that affect seller productivity. Salespeople need to make decisions everyday about where to focus their time and energy. From evaluating and growing their pipeline, working individual opportunities, and leveraging the right resources for team selling. Sales methodologies today must provide a framework that enables sellers to work efficiently.
SELL
Selling effectively is today's environment requires a significant shift from traditional methodologies. Most sales methodologies emphasize late stage selling such as presenting solutions, overcoming objections, negotiating, and closing. While all still relevant these are not nearly as critical for success today.
Sales success today is based on how you perform in early stage selling. Creating demand is a differentiator for high performance. Sellers cannot limit themselves to filling their funnel through marketing leads or when the customer is ready to discuss an opportunity. With digitalization occurring across industries, sellers have the platform to create their own opportunities. Opportunities that customers may not have even considered before the salesperson got there.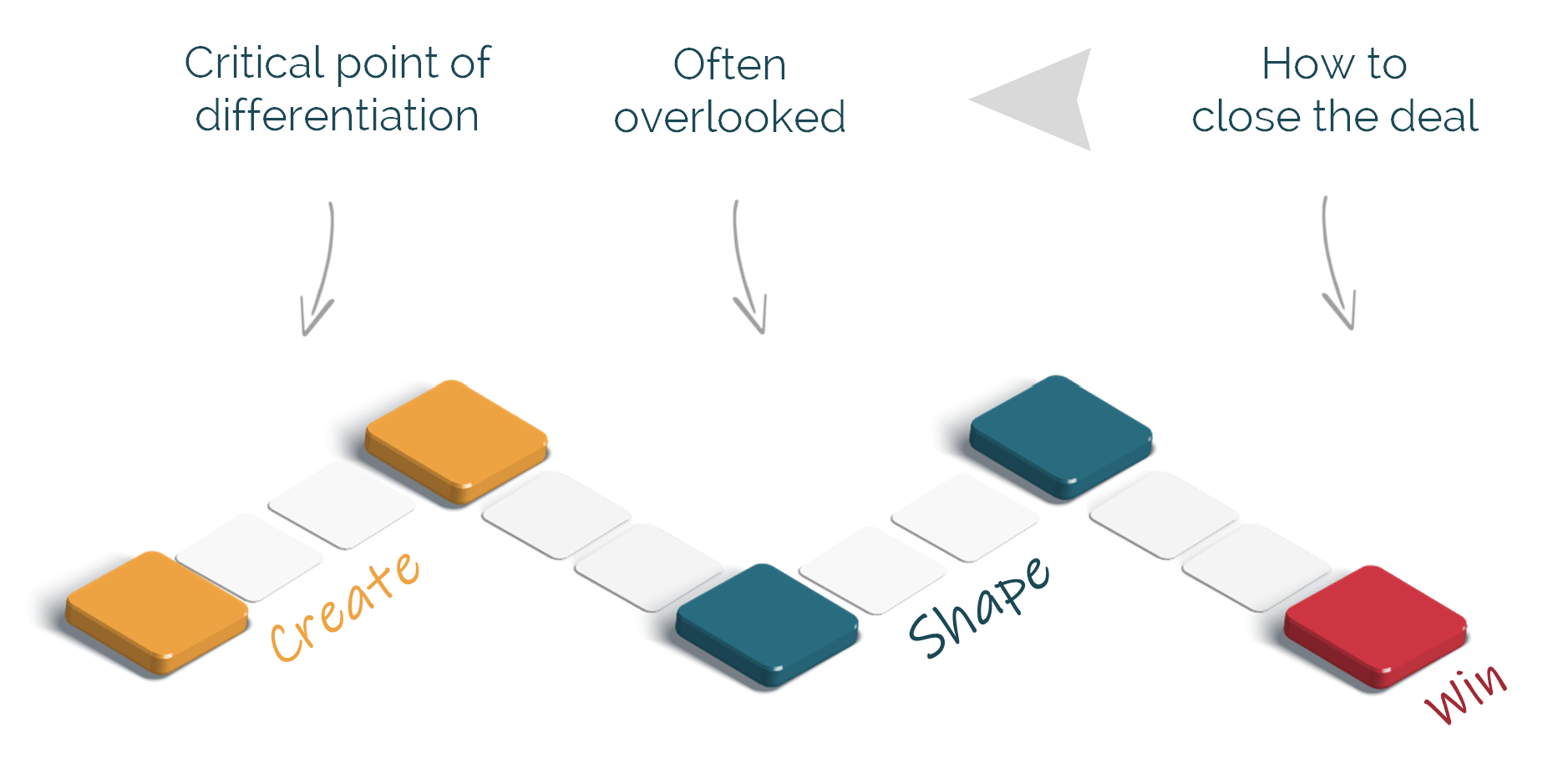 Once the seller has engaged the customer in early stage selling, they must be able to pivot between learning about the customers business landscape and sharing insightful ideas that drive a non-product oriented conversation. Early stage selling is the cornerstone of our Conversation Frameworks approach.
A completely overlooked area is middle stage selling. The ability to engage and drive alignment across the many stakeholders influencing each deal is a source of differentiation for a salesperson. Most sales methodologies do not even factor in middle stage selling. They jump from opportunity identification to proposal. In the Conversation Frameworks approach, we look at your solution strategy and your sales strategy in the middle stage. This is where we build your capabilities to co-create solutions with a customer, driving engagement and alignment.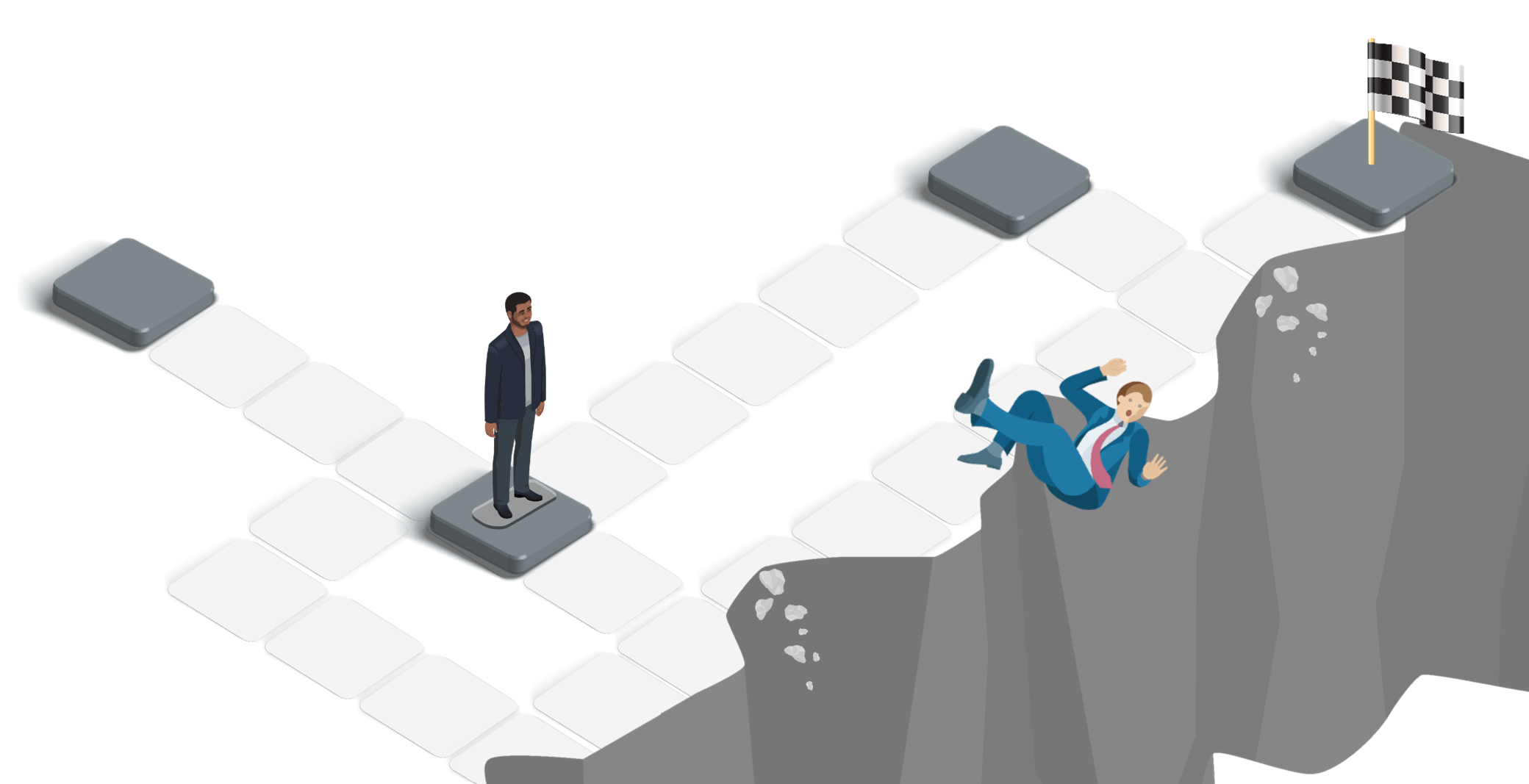 There is a major factor that affects late stage deals - Risk! Customers are most concerned about decision risk. What happens if this decision to move forward goes poorly? Sellers need the capabilities to help their customer minimize decision risk. They also need to build a strong business case for the risk associated with not buying their solution. These are the modern day capabilities required for late stage selling success.
Conversation Frameworks© enables your sellers to be agile throughout the sales process by having the right conversations with the right people to drive the right outcomes. Working efficiently to leverage appropriate tools to plan and execute each unique conversation, guide customers to the next step, and take reliable action. Sales conversations are unique at each stage of the selling process, so we prepare sellers to shift their mindset and adapt their conversational sales capabilities accordingly.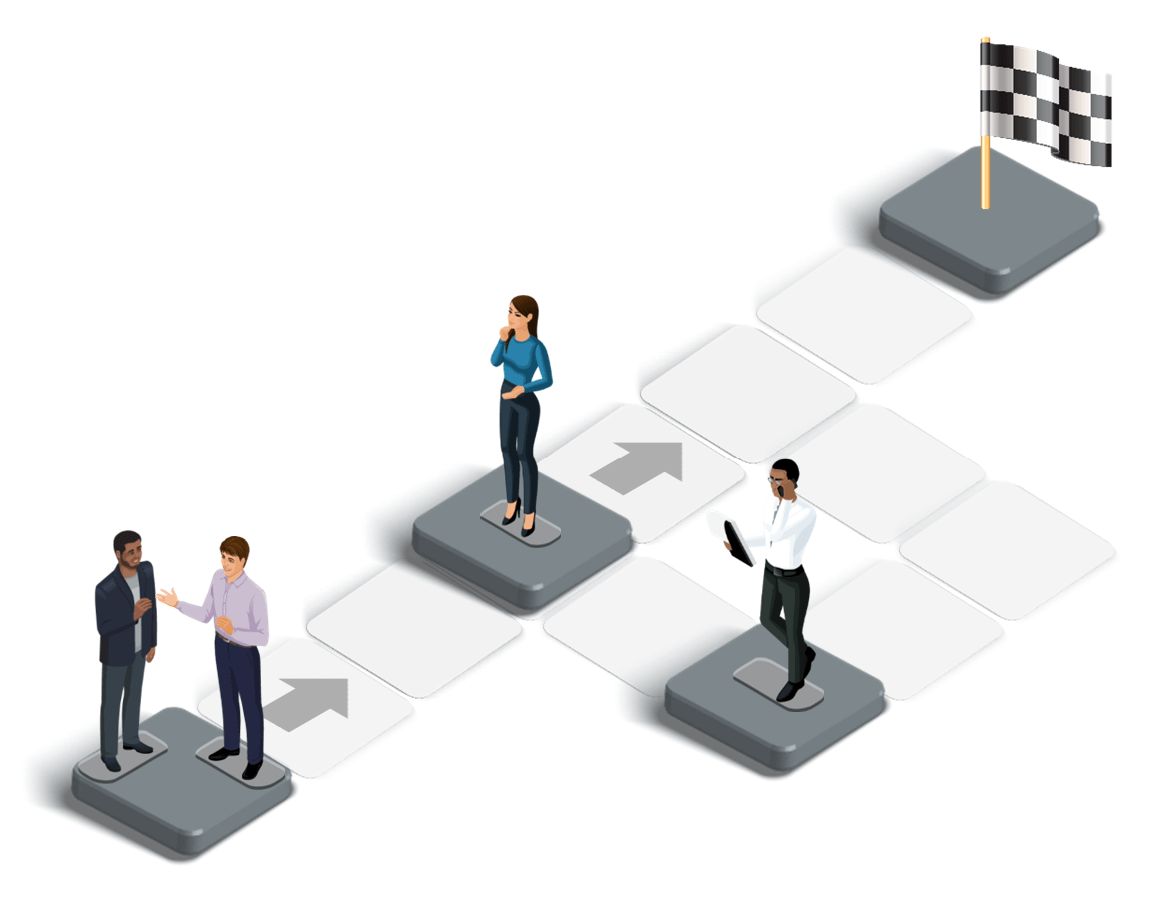 Conversation Frameworks' capabilities help your sellers:
Create a conversation roadmap that guides the buy/sell process for each opportunity
Proactively generate opportunities through strategic Prospecting planning and conversations
Be an intellectual asset to understand their customer's business and bring insight that stimulates your customers thinking through Learn and Share conversations
Utilize effective sales strategies and solution strategies that drive stakeholder alignment and by adapting to how your customer wants to buy through Solution Definition conversations
Build engagement and paint a vision of success for your solution through Solution Recommendation conversations
Mitigate decision risk and secure commitment with Confident Close conversations
Too often, sellers are taught what to sell, but not how to sell.
Teaching of concepts and "how to's" are part of every learning, but adoption comes from real world application and integration into the fabric of your business:

Field Application Guide: Every module includes real-world application of the concepts learned to actual opportunities sellers are working on, and follow-up discussions of their results
Seller Toolkit: Each seller receives a toolkit of planners, guides and evaluation tools to use to plan conversations and evaluate opportunities and themselves. The tools are used both during training and ongoing when planning real conversations.
Coaching Playbook: Managers receive coaching tools that guide them how to effectively identify and personalize areas for seller improvement and maximize team performance.
We don't start with our products and services. We partner with you to identify your Go-To-Market strategy, determine the implications to how your sellers need to Think, Work and Sell, to be most effective. Then we will configure and customize our offering based on the needs of your business and sales organization.
Our sales methodology can be deployed using multiple modalities: Leader-led, in-person (ILT), virtually (vILT), or self-directed (eLearning)
Our approach guides and supports you through Adoption, Integration, and Measurement (AIM)
Learn
Adoption

Starts with application during the deployment process, and ends with everyday usage of our sales methodology
Integration

Sustained adoption is achieved by integrating the tools and way of thinking into the fabric of your business
Measurement

We provide tools to measure leading and lagging indicators that support your business strategy
Success in sales today is based on How you sell, not What you sell.